Aluminium Foil Bubble Thermic Insulant for Metal Structure Building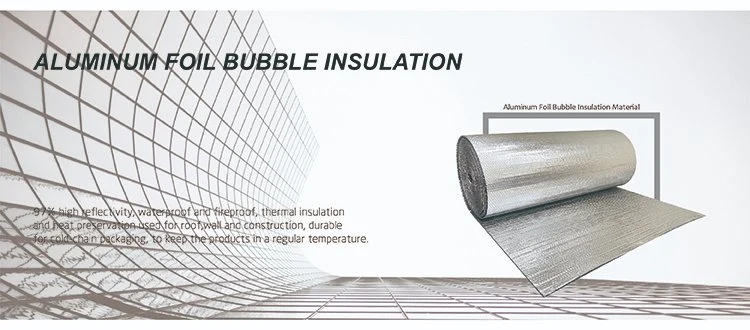 Product Descriptions:
Our aluminium foil consists of poly bubble with reflective aluminum foil on both sides. Antiglare available, color can be gold/blue/green/copper etc.
Structure:
(Anti Glare) Aluminum foil / Fire Retardant Bubble / Silver Aluminum foil
Typical Applications:
It can be used as thermal insulation and radiant barrier for residential and commercial buildings.
· roof insulation · wall insulation · under concrete insulation · · container liner · box liner · thermal wrap of cold chain logistic
Specifications:
· Aluminum Thickness

7microns

· Surface Color

silver/gold, silver/blue, silver/green, silver/pink

· Emissivity(Silver Side)

E0.03

· Emissivity(Antiglare Side)

E0.05

·

Flammability Index

2(Range 0~100) (AWTA)

·

Fire Rating

Class 1/Class A(ASTM E84)

· Bubble Height

4mm

· Classification

Medium Duty
Features:
| | | |
| --- | --- | --- |
| · 97% Reflectivity | · Excellent fire rating | · 99% pure metal aluminum foil |
| · E0.05 on antiglare side | · Antiglare side 95% reflectivity | · Compression resistant |
| · Fiber-free and non-itch | · Eco friendly | · Perfect water and vapor barrier |
| · Very tough and durable | · Good acoustic insulation | |