Automatic Dairy Farm Small Animal Pellet Feed Extruder from China Factory
1. Specifications of Flat Die Pellet Feed Extruder:
| | | | |
| --- | --- | --- | --- |
| Model | Working Capacity | Motor Power | Pellet Feed Size |
| 9KL-120 | 80-120Kg/Hour | 3Kw | 3-6mm |
| 9KL-200 | 300-400Kg/Hour | 11Kw | 3-8mm |
| 9KL-260 | 700-1000Kg/Hour | 15Kw | 3-8mm |
| 9KL-300 | 1200-1600Kg/Hour | 22Kw | 3-8mm |
| 9KL-400 | 1800-2500Kg/Hour | 45Kw | 3-10mm |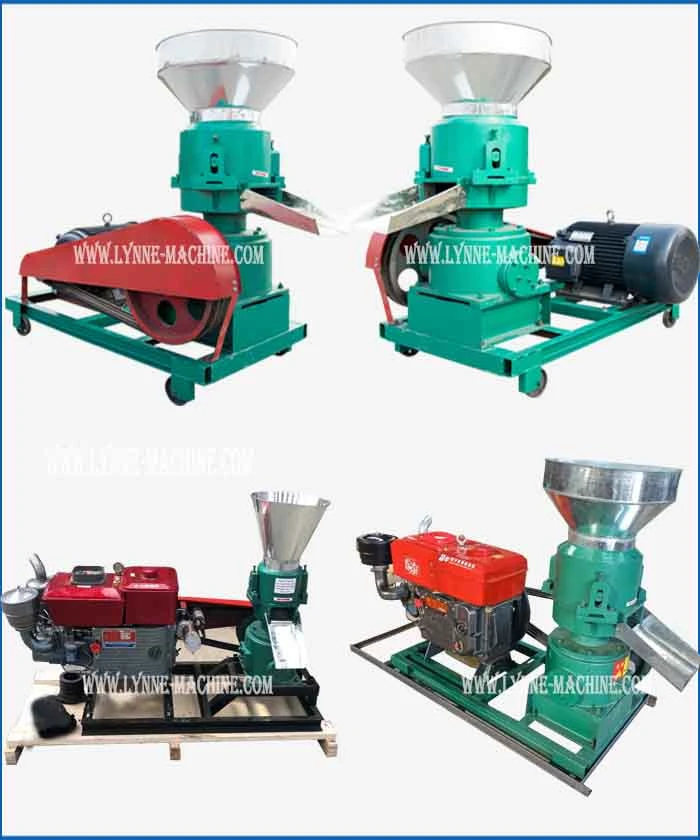 2. Descriptions of Pellet Feed Extruder:
(1). Our feed pellet machine can produce animal feedstuff pellet for animal/poultry like chicken, pig, cattle, sheep for They are widely used in feed factories, breed aquatics factories, organic fertilizer factories

(2). Raw material: rice husk, straw, cotton stalk, cottonseed skins, weeds, crop stalks, and other plant wastes, especially low-bonding and unformed materials.

(3). The moisture of raw materials is less than the national standard of 13%. If not, the raw material must be dried. The size of raw materials should be no more than 5mm, if not; the raw material must be crushed.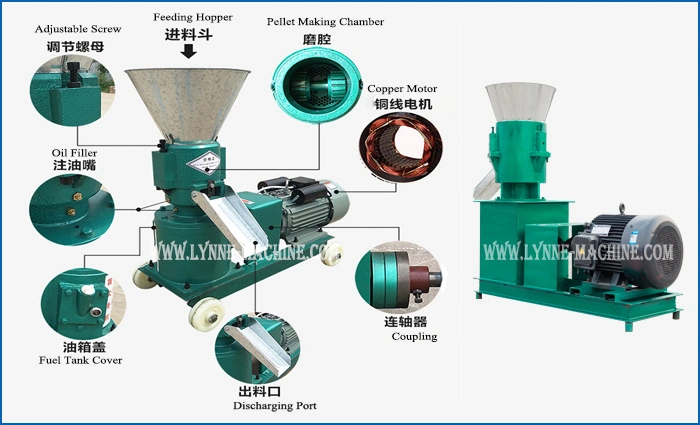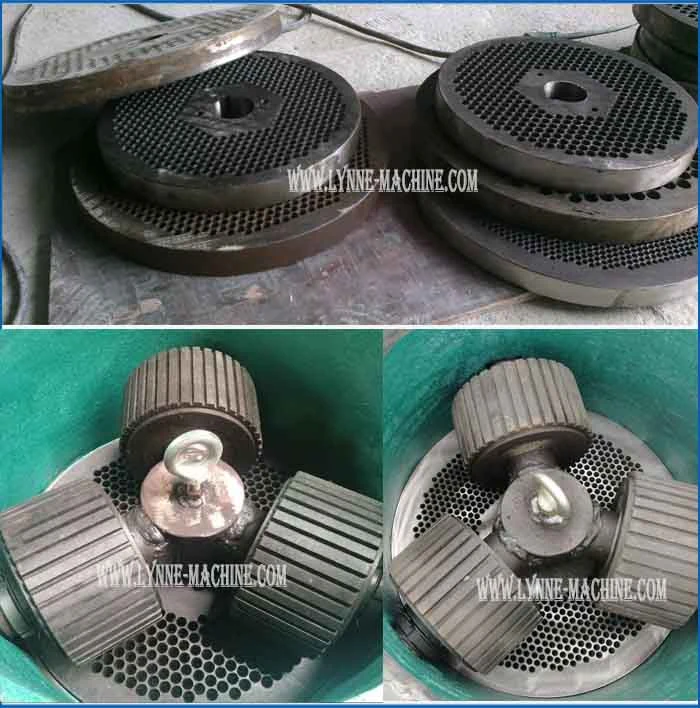 3. Spare Parts:
We have Spare parts with size from 1.5mm to 6mm, meet with your varying demands of pellet feed.
Durable Spart parts with Long Service Life.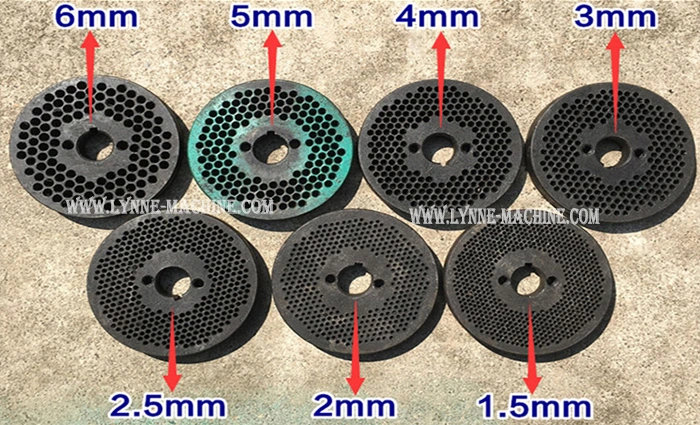 4. Final Pellet Feed:
Raw materials are kinds of grain powder, biomass waste, soybean cake, straw, grass, etc.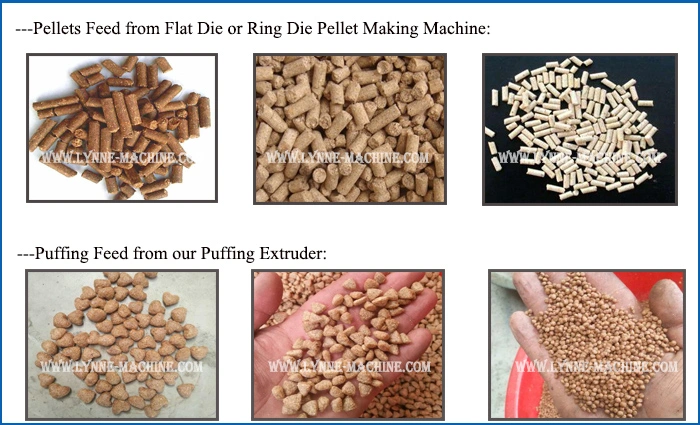 5. Difference Between Flat Die and Ring Die Pellet Machine, and Puffing Extruder: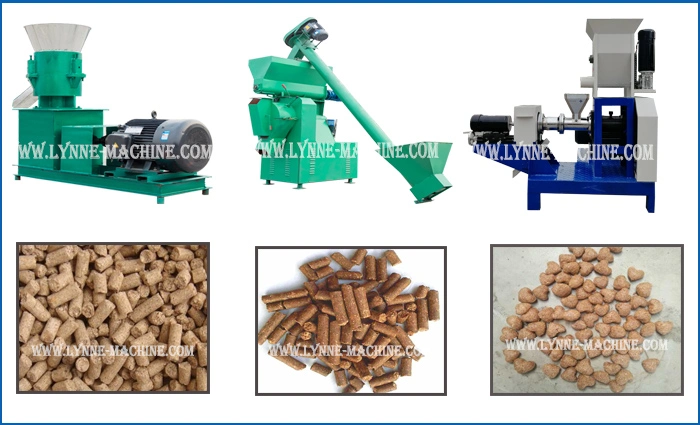 6. Frequently Asked Questions:
(1). Driving Engine for Pellet Feed Making Machine?
It could drive with Diesel Engine, Gasoline Engine, PTO, and Electric Motor Power.

(2). Types of Pellet Feed Making Machine?
We have Flat Die Pellet Making Machine for Poultry, Animal and Ring Die Pellet Making Machine.
Except for Pellet Feed Making Machine, We also offer Puffing Extruder for Making Pellet Feed for Fish, Cat, Dog, etc.

(3). Package?
International Package Standard with Wooden Package, Safety with long-distance transportation.

(4). Warranty?
1-year time Warranty, with Durable service life.

(5). Applications?
Widely used for making pellet feed for chicken, pig, cattle, goat, duck, fish, PET, etc.
With raw materials of kinds of grains power, soybean cake, biomass waste, straw, peanut shell, corncob, etc.

(6). Shipping Period?
Normally after getting your order, within 2 weeks, the machine will be ready for shipment.

(7). Trustable Supplier?
Yes, We are SGS Certificated Company, Qualified equipment, Prompt and Professional Service, etc.
(8). Factory Directly Sales?
Yes, Wide Product Range meets with your requirements.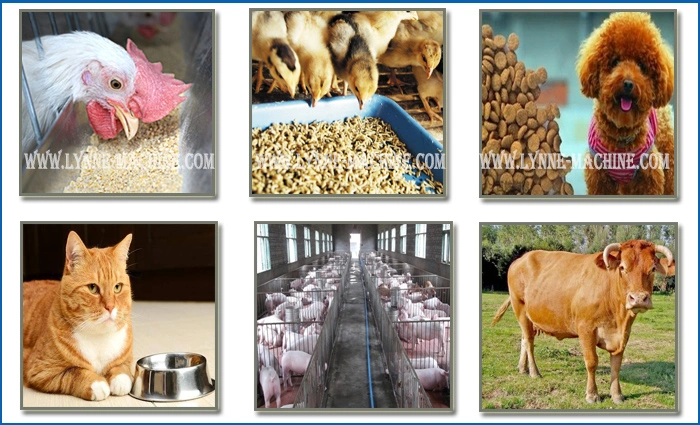 7. Package: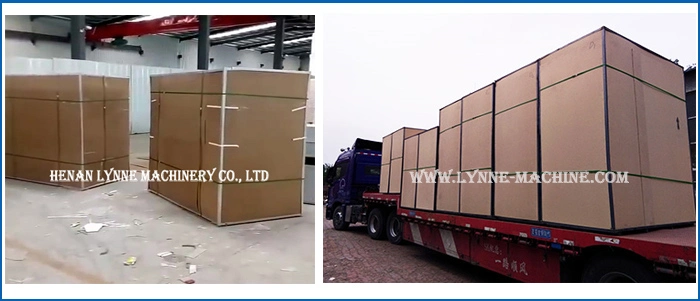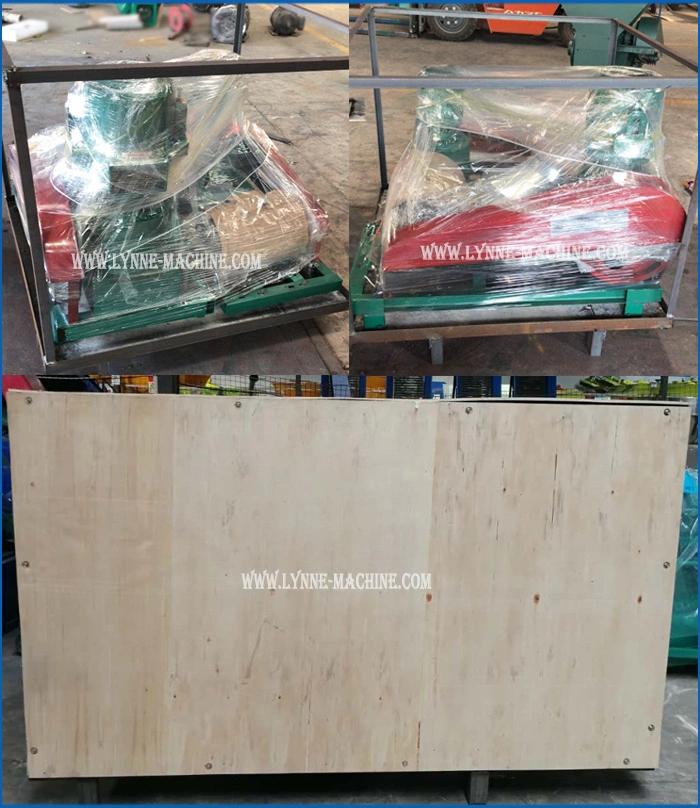 Related Equipment for Poultry/Dairy Farm---Horizontal/Vertical Powder Feed Grinder Mixer: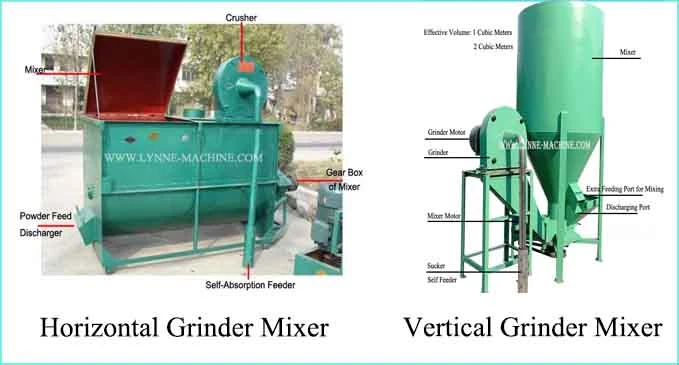 Related Equipment for Dairy Farm---Silage Feed Chaff Cutter: