Product Description
Wellcamp Ready-Build Open Type Light Steel Prefab Cowshed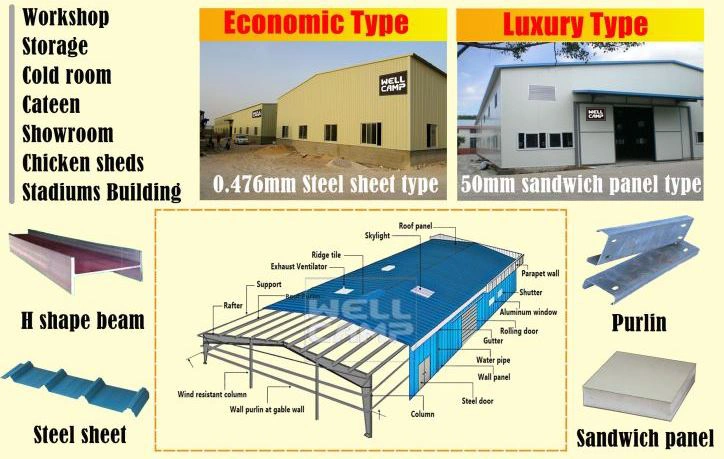 WELLCAMP is a 100% export corporation with high quality design&manufacture.

This STEEL STRUCTURE WAREHOUSE is suitable for the workshop/ chicken shed/ stadium/ refrigeration storage, etc.

WELLCAMP Steel Structure Workshop, also called Pre-Engineered Steel Building, Portal Frame Steel Structure Construction, Steel Structure Warehouse, Steel Sheds, Light Steel Structure, Steel Building, Steel Structure Building, Steel Construction, Steel Frame, Prefabricated Steel Structure, refer to H Section Steel Structure Houses that have been designed & used for Sheds, Barns, Warehouse, Workshop, Factory, Showroom, Supermarket, Office or any other functions.

It is houses that are designed & manufactured as Portal Frame Steel Structure attaching with sandwich panels or color steel sheets for wall or roof with doors, windows. But sometimes some customer can also choose to only buy the steel structure & make brick wall & concrete roof locally.

Such Steel Structures are commonly used in Construction Sites, Factories or Industrial Areas as Workshop, Factories, Offices, Warehouses, Mess Hall, Canteen & Sheds, also used for solider camps, government projects & school projects, which are light weight and faster to set up compare to traditional building methods. Therefore, the Steel Structure Houses are also known as the Steel Construction Buildings.
Completed as 1 set! Come in Parts & install at site! Based on Cement Foundation made by local contractor. All parts fabricated according to design requirements. All steel parts welded & painted. Assembly structures by bolts & attach panels to steel structure members or parts by screws according to designs.

WELLCAMP Steel Structure Warehouses come in different sizes. We can provide standard designs & dimensions or customize according to customer designs. The design in above picture dimension is 24m*50m*6H, which is 1200 m2 area of warehouse. 1*40HQ can load around 900m2. The main steel structure is made from H Section Steel, with Colored Galvanized Steel Sheet for wall & roof!6 workers can build 100sqm in one day! Normally column distance within 6m, eave height 6m, but can be up to 12m high! Each span normally 15-20m, can be 20-30m or even 30-50m, but is more costly.

The MOST COMMON option for Warehouse, Workshop, Sheds set up! We Already sell to Malaysia, India, Thailand, Myanmar, Vietnam, Oman, Saudi Arabia, Qatar, Indonesia, UAE, Philippines, Kenya, Uganda, Tanzania, Congo, Nigeria, Ghana, Mozambique & many other countries.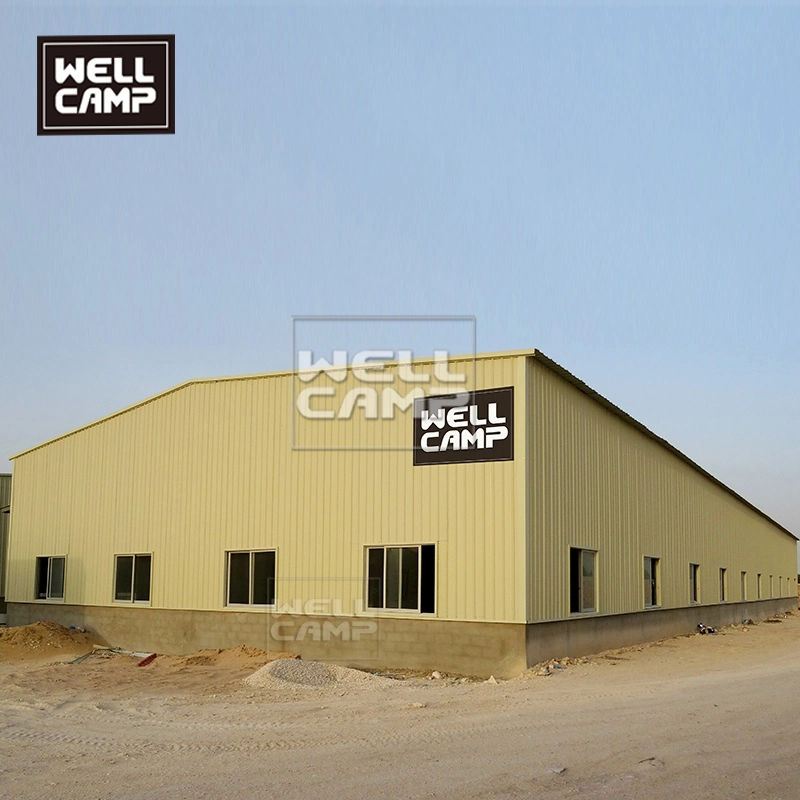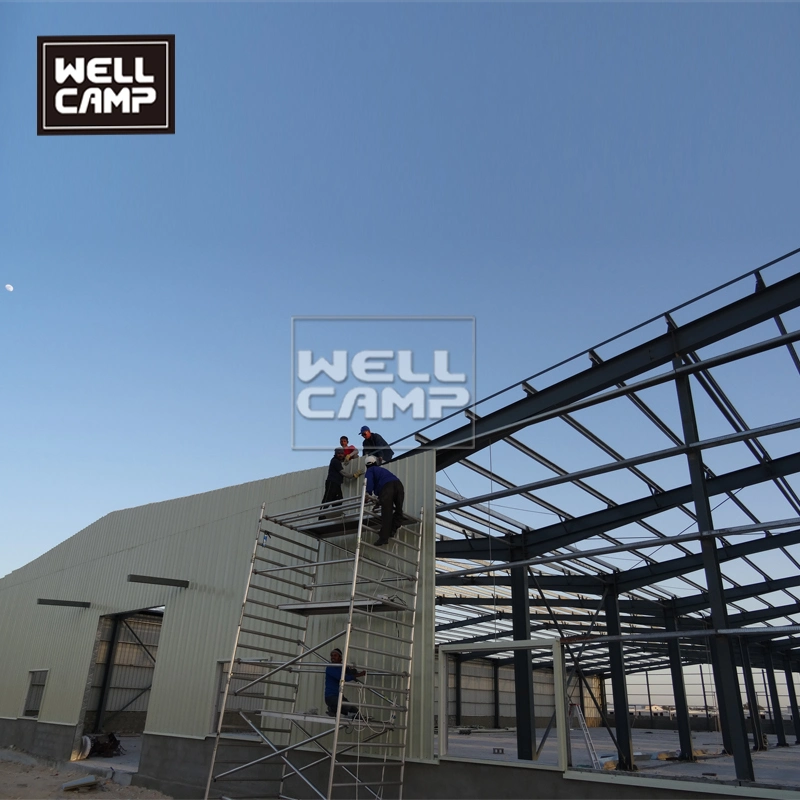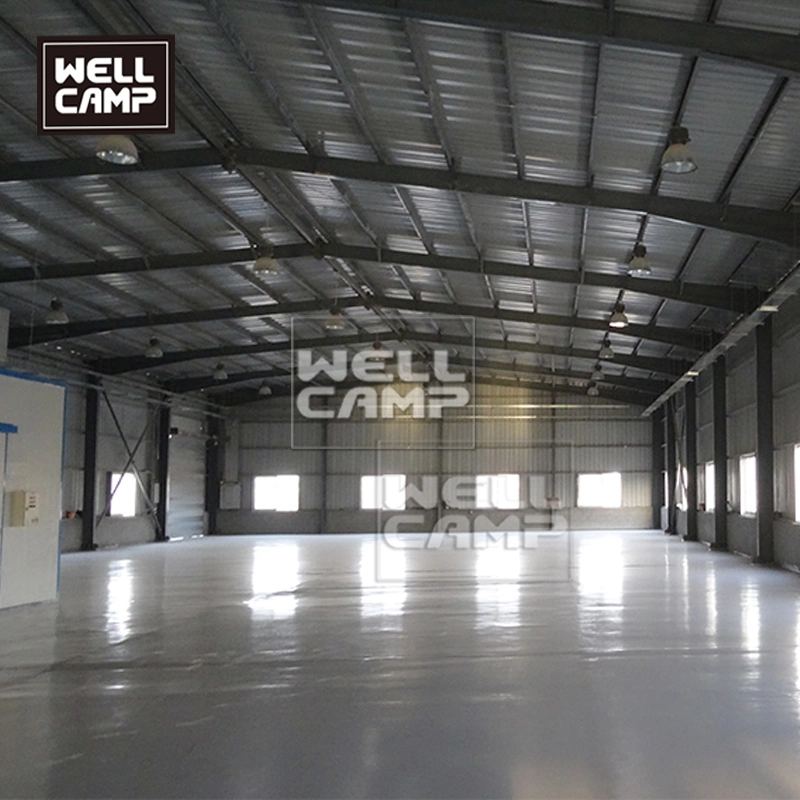 Steel Structure Workshop Characteristics
1) Compared with traditional building methods, easier construction, lower cost, time-saving and labor saving.
2) Steel structures house designed to resist heavy wind of 120km/h and 7 grade earthquakes.
3) In order to guard against theft, you can build 1 to 2 meter concrete wall before installing our wall panels.
4) Anti worm and ant. All the steel structure is painted and anti-rust which can be normally used for more than 30 years with minimum building waste.
5)Environment-friendly materials, the house can be assemble and disassemble six times.
6)1000mm high flat level can meet the foundation of the house.
7)6 people one team, one day can install more than 300 square meters.

Steel Structure Workshop Plan Drawing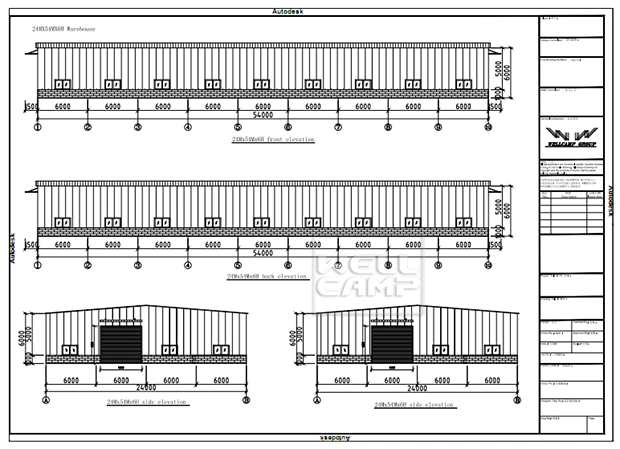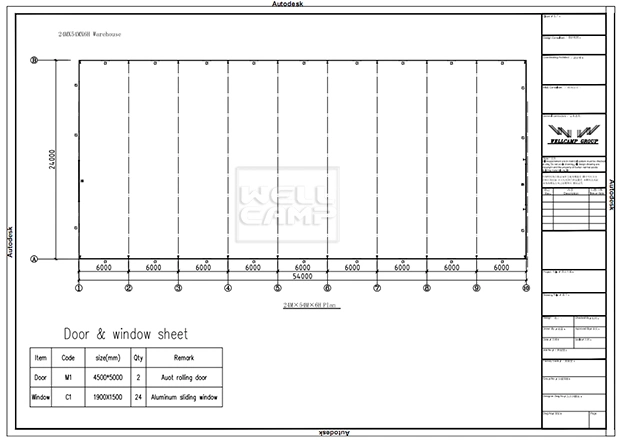 Main Materials List
| | |
| --- | --- |
| Column | "H" secion steel |
| Roof Beam | "H" secion steel |
| Purlin | 120 "C" section steel |
| Roof Panel | 0.326/0.376/0.426/0.476MM color steel sheet |
| Wall Panel | 0.326/0.376/0.426/0.476MM color steel sheet |
| Window | Aluminum sliding window |
| Door | EPS/PU/Rock Wool sandwich door/Steel door/Aluminum door/Rolling door/Sliding door |
| Bolt | 4.8s,Galvanized |
| Ceiling | 600*600 PVC ceiling for dry,300*300 aluminum ceiling for wet, if needed. |
| Floor | Concrete foundation with ceramic tile or PVC tile, if needed |