Hot Sale Galvanized Prefabricated H-Section Steel Structure For Poultry Chicken Shed With Corrugated Steel Sheet
Product Information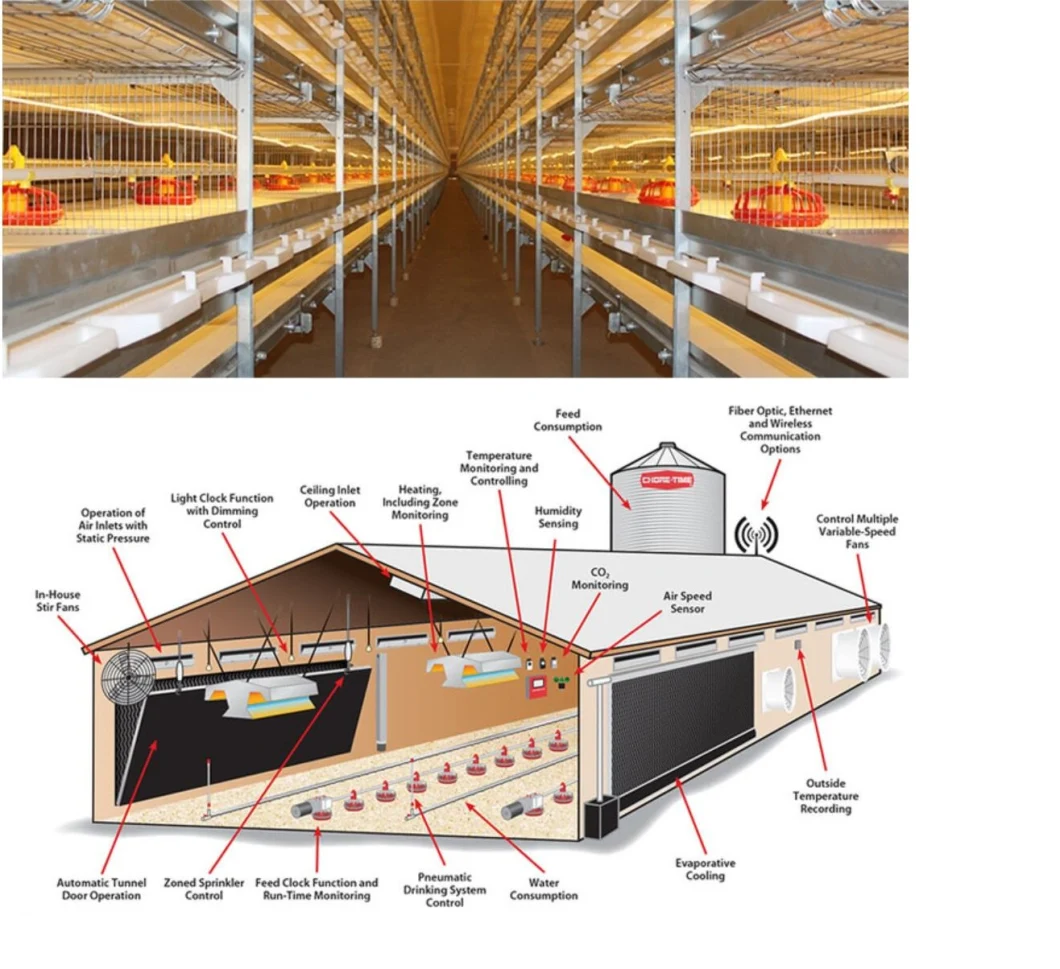 Steel structure is the third generation construction. It combines H section beams&columns and c/z section steel profiles into the frame with the corrugated steel sheet or sandwich panel as the envelope systems. The traditional reinforced concrete construction has already been taken place by this kind of construction in developed countries these days.
Material list

Project sample

china shandong prefabricated steel structure warehouse shed thailand

Building size (m)

Such as 100x 60 x 8m/ Customized

Main steel structure

Steel column

H(400-800)x260x8x12, Steel Q345B/Customized

Steel Beam

H(800-550)x250x8x10, H550x250x8x10/Customized, Steel Q345B

Second steel structure

Roof Purlin

C200*70*20*2.5/Customized

Wall Purlin

C200*70*20*2.5/Customized

Cross Support

20 Round Steel Bar, Steel Q235B

Column Bracing

20 Round Steel Bar, Steel Q235B

Angle Brace

L50x4 Angle Steel, Steel Q235B

Tie Bar

89*3, Steel Q235B

Roof and wall panel

roof panel

50/75/100mm sandwich panel (EPS, PU, Glass wool, Rock wool) or color steel sheet

Wall panel

50/75/100mm sandwich panel (EPS, PU, Glass wool, Rock wool)or color steel sheet

rolling up door

auto-matic aluminum rolling up door/sandwich panel sliding door, sandwich panel sectional door

Single Wing door

sandwich panel door/aluminum hinged door

Window

Aluminum/PVC sliding window with single glass/double glass

Edge Cover

steel sheet (thickness 0.5mm)

Fittings

glass adhesive, self-tapping screw etc.

Other fittings

Embedded

M24 steel Q235, process

Intensive bolt

Grade 10.9

Ordinary bolt

4.8S
Types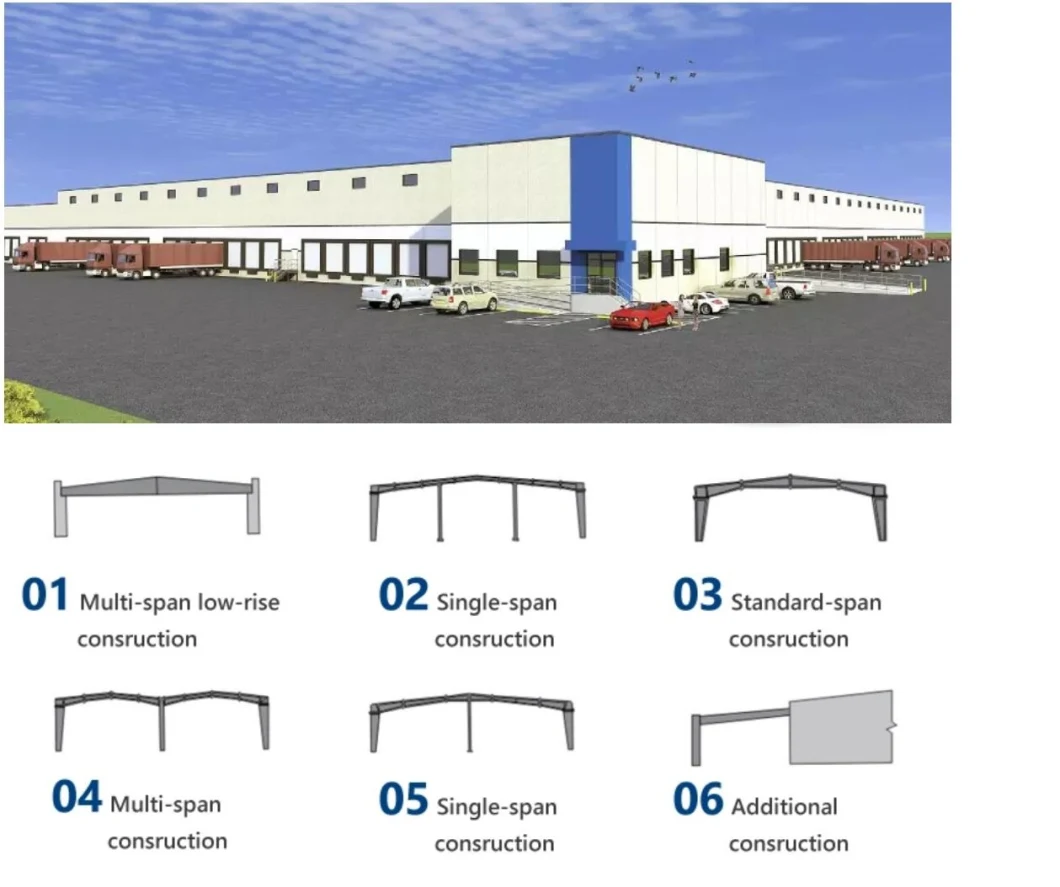 Connections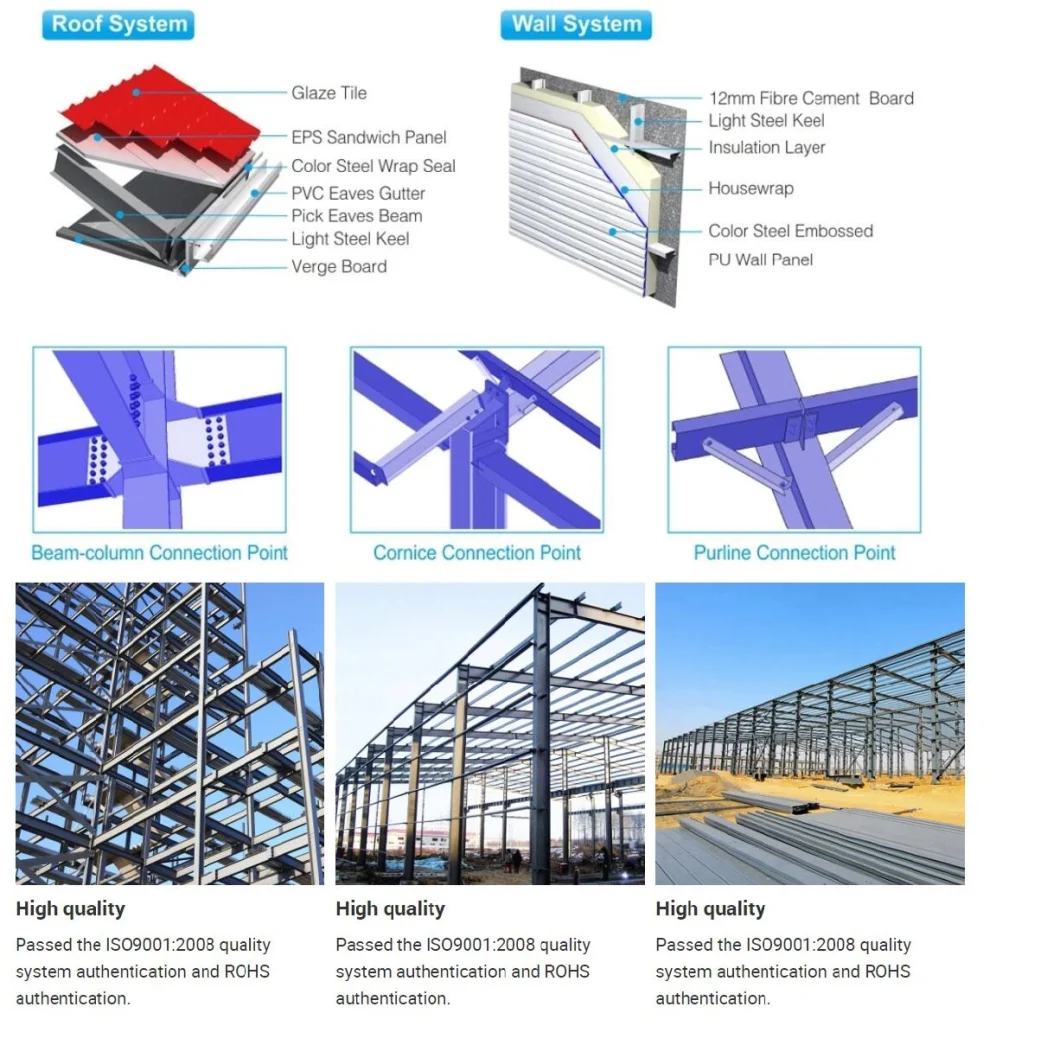 Advantages
1. Prefabricated. Fast and easy installation, time saving and labor saving.
2. Customized design, various layout, beautiful appearances, different colors for the walls and roof.
3. light weight, easy move and cost saving,
4. Removable,convenient to assemble or disassemble. Fast construction and easy installation.
5. Environmentally, recycle, no waste produced.
6. High strength, can resistance grade 8 earthquake.
water proof, fire proof; can resists strong wind and heavy snow.
7. Long life span.can be used for more than 50 years.
8. Wide span , single or multiple spans, can have a maximum span distance in 36m without middle columns.
Related Products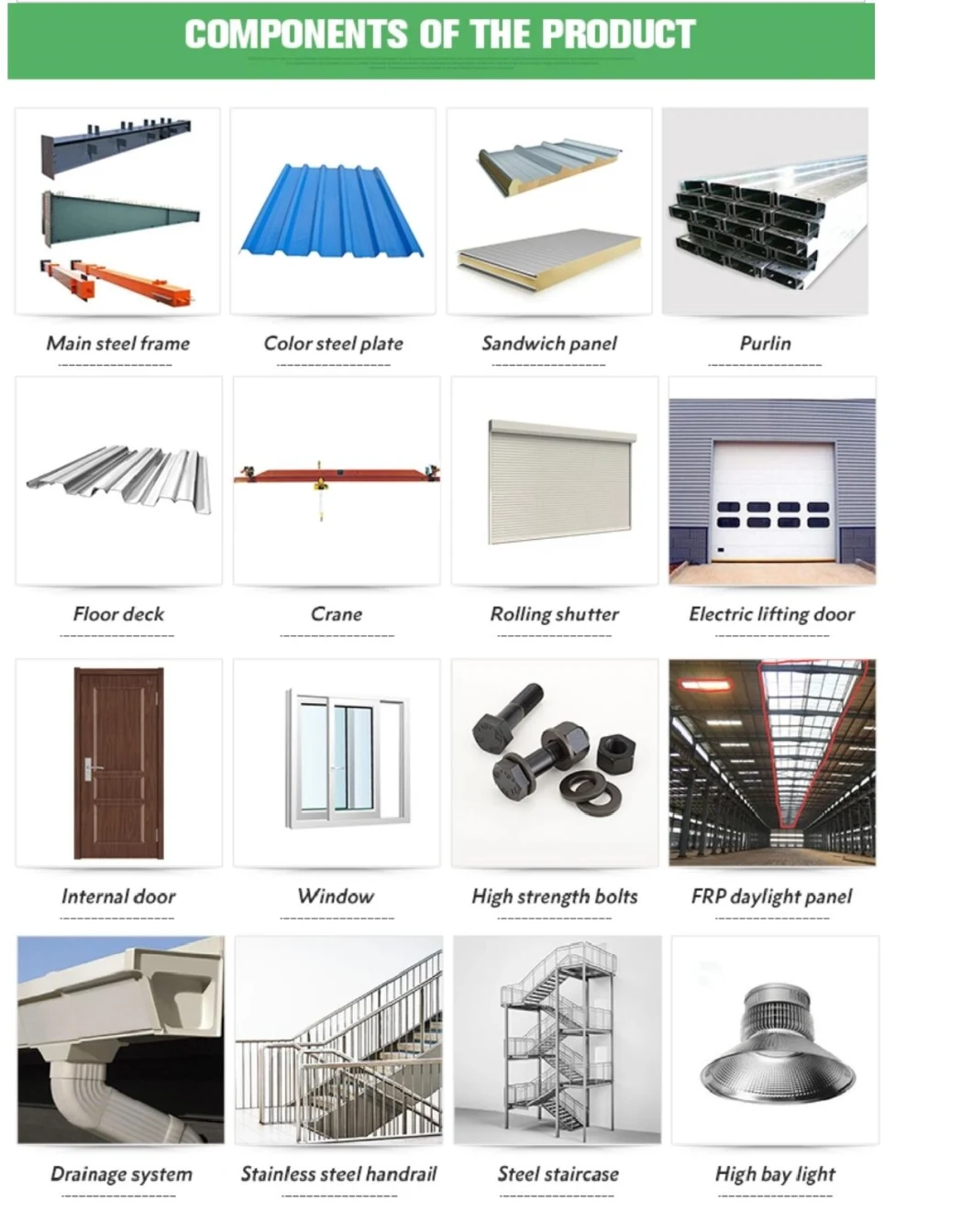 Technical Inquiry
Customized design is welcome, it would be better if you could provide the following information:
1. Location (where will be built?) _____country, area
2. Size:Length*width*height _____mm*_____mm*_____mm
3. Wind load (max.Wind speed) _____kn/m2, _____km/h, _____m/s
4. Snow load (max.Snow height) _____kn/m2, _____mm
5. Anti-earthquake _____level
6. Brickwall needed or not If yes, 1.2m high or 1.5m high
7. Thermal insulation If yes, EPS, fiberglass wool, rockwool, PU sandwich panels will be suggested; If not, the metal steel sheets will be ok.The cost of the latter will be much lower than that of the former.
8. Door quantity & size _____units, _____(width)mm*_____(height)mm
9. Window quanity & size _____units, _____(width)mm*_____(height)mm
10. Crane needed or not If yes, _____units, max.Lifting weight____tons;Max.Lifting height _____m

Production Process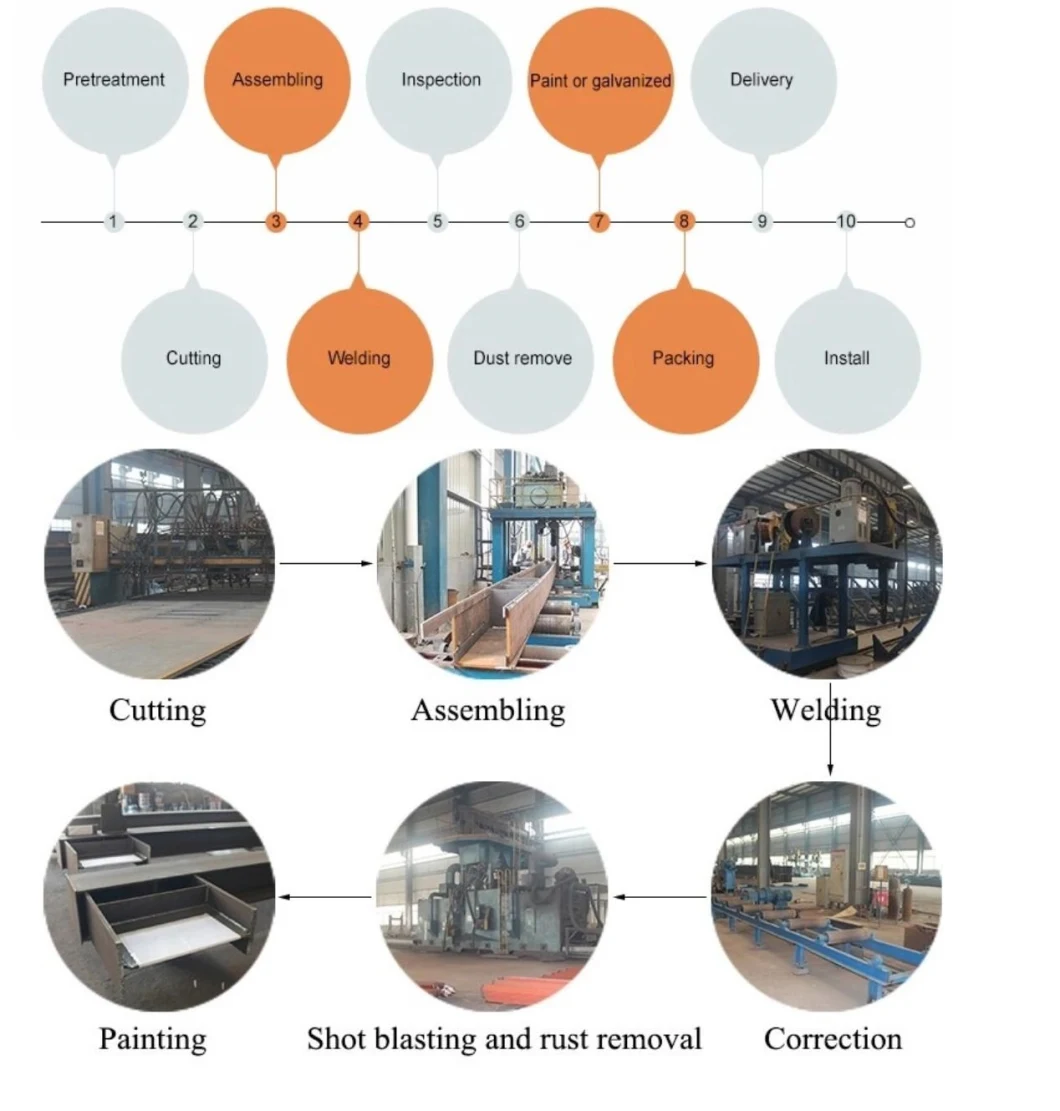 Our Projects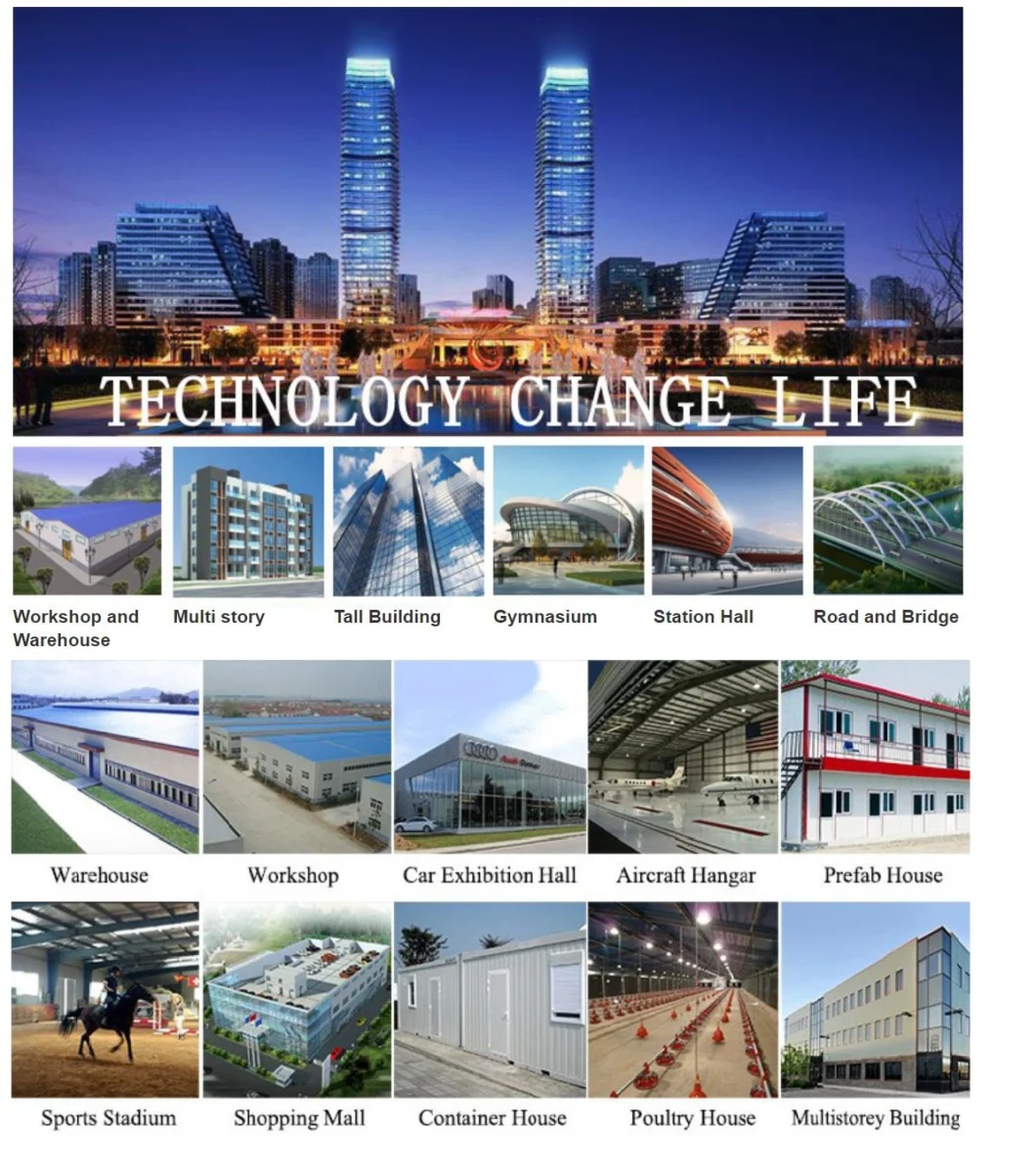 About Us
SHANDONG MINGZHU NEW MATERIAL TECHNOLOGY CO.,LTD was founded in 2005 with fifty million Yuan of registered capital. In order to provide better services to domestic and foreign customers, MINGZHU GROUP registered GILFOR (SHANGHAI) INTERNATIONAL CO., LTD in 2018 in Shanghai. GILFOR (SHANGHAI) INTERNATIONAL CO., LTD is an export-oriented company which provides high-quality products including Steel Plates(Rolls), metal profiles, metal construction envelope system manufacturing and products distribution service, the main products including high quality Corrugated steel sheet, Sandwich panel, Floor decking sheet, Steel Structure, PPGI Rolls, GI Rolls, Aluminum decorative sheet, Aluminum profiles, etc.

Taking good advantages of our company more than ten years' trust and cooperation with many large steel mills in China , perfect manufacturing and large-scale of our factory, GILFOR (SHANGHAI) INTERNATIONAL CO., LTD has become an excellent enterprise which supplies and distributes China's high-end metal plates and rolls in this industry.

GILFOR (SHANGHAI) INTERNATIONAL CO., LTD will be committed to providing customers with more varieties,better quality products , better services and better solutions. At the same time, we are willing to work together with customers at home and abroad to create a brilliant future.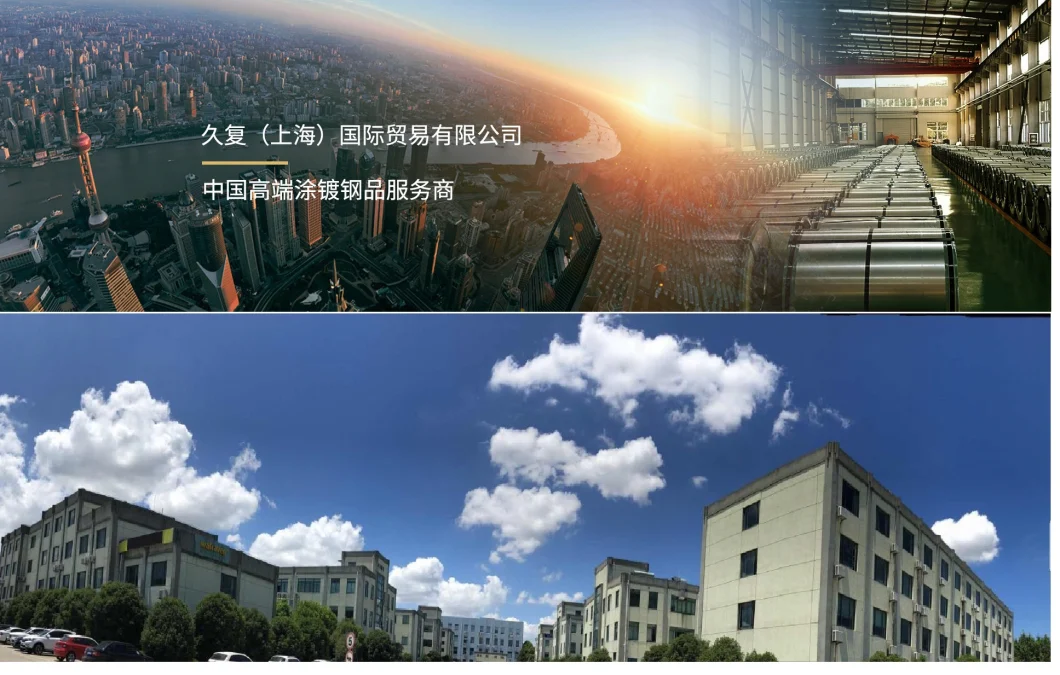 FAQ
1. Do you provide on-site installation service?
1) Only large projects provide installation services
2) General projects, we can provide Installation guide service based on customers' request.
3) Installation supervision charge standard: 150USD/day, customer should responsible for the travel fee, accommodation, translation fee, and ensure staff's health and safety.
2.What's your delivery time?
Salesman will confirm the time accordingly, large order should communicate with order management department in advance. Normally, delivery time is 45days after receive deposit. Large order delivery time should be arranged separately.
3.How to control the quality of your product?
a. quality of the design: think about possible problems in advance and provide a high-quality design solution.
b. quality of the raw material: choose the qualified raw material
c. quality of the production: precise manufacturing technique, experienced workers, strict quality inspection.
4. How to deal with quality problems?
Warranty is 3 years. Within the warranty period, our company will responsible for all quality problems caused by production.
5. If there is a clear service life of your products? If have, how long?
Under conventional climate and environment, steel structure whole building 25 years, main structure 20 years, protecting system 10 years.
6. What designs do you have in different climates (How can the products adopt to different climates)?
Strong wind region: improve the wind-resisting ability of the internal structure.
Cold region: increase the thickness of the wall, or use good insulation material, improve anti-pressure ability of the structure.
High corrosion region: use corrosion resistant material, or paint anticorrosive coating.

Our Service&Transporting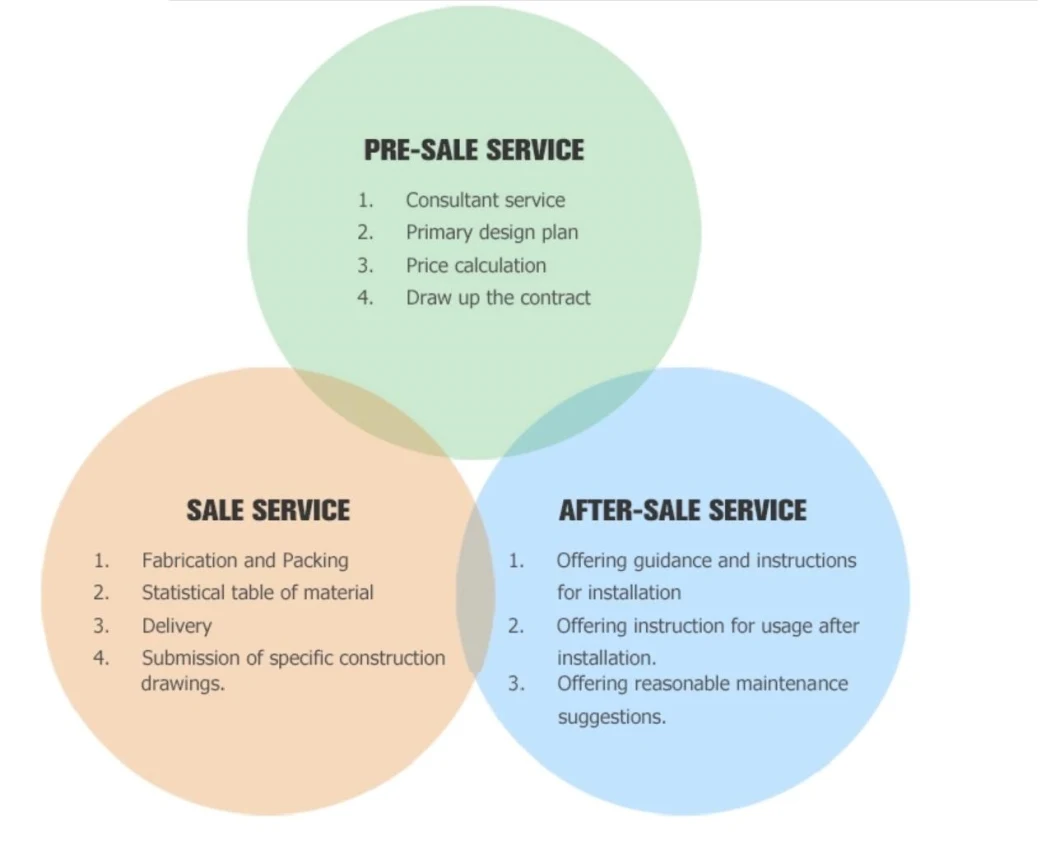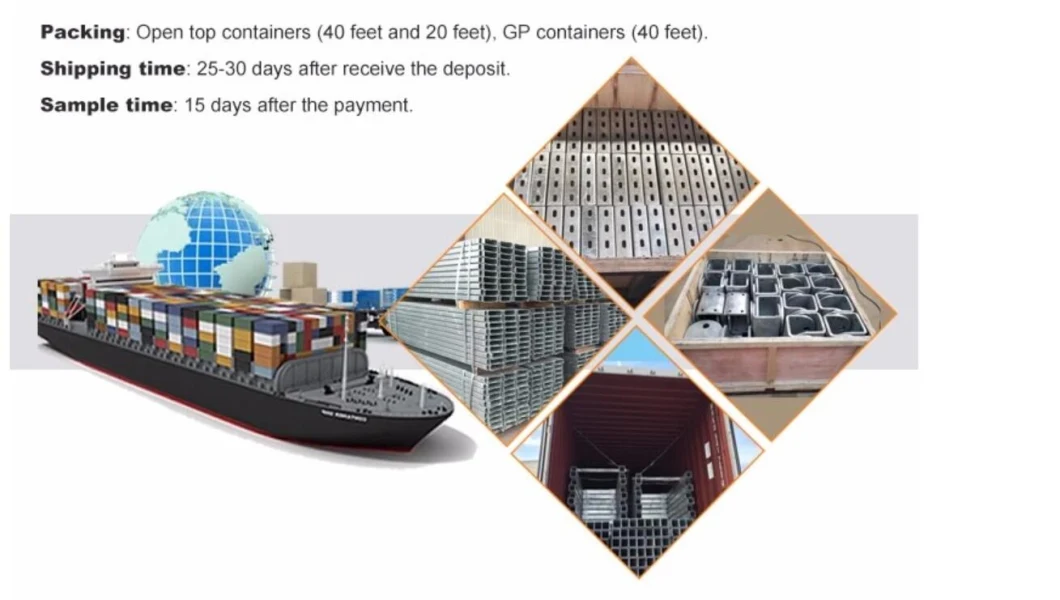 Contact us